How Does SCOTT Create their Carbon Fiber Bikes?
First, Here are the types of Carbon Fiber used by Scott.
HMF CARBON FIBER
HMF carbon fiber is used to maximize strength and to keep weight low. This material has an optimal blend of stiffness and strength that offers the best riding session. The know-how of SCOTT engineers is utilized in order to create the perfect lay-up with orientation and fiber size. HMF fiber will offer superior strengh compared to the industry standard.
HMX CARBON FIBER
SCOTT has improved upon the now conventional high modulus carbon fiber, HMF, used throughout the bicycle industry. HMX is a fiber blend used by SCOTT, and is 20 percent stiffer than its HMF counterpart for the same weight. This unique material allows SCOTT engineers to create incredibly light bikes with excellent riding characteristics. The cost of HMX, however, is three times that of HMF, and is therefore reserved for our high end Premium,Team Issue, and RC frames.
HMX-SL
HMX-SL utilizes Nano-technology, which incorporates a carbon nanotube reinforced epoxy resin as well as T1000G carbon fiber. The carbon nanotubes offer an improved strength perpendicular and at off-axis to fiber direction, which allows for a better inter-laminar shear strength. The cohesion between the fibers is improved compared to our industry leading HMX carbon blend offering an unprecedented resistance. T1000G is the world's highest tensile strength fiber. This fiber is traditionally used for aerospace or defense applications. Strategic use of this new material results in a frame that is lightweight without compromise in power transfer.
HMX filaments are both stiffer and smaller in diameter than those of HMF carbon. Because of this, an HMX frame can be built of tubes with thinner wall thicknesses to achieve the same stiffness of a corresponding HMF frame.
The final difference between a HMX and HMF frame is mainly the weight. A HMF frame is about 14% heavier than a HMX frame.
HMX-SL IS 8.5% LIGHTER ON A FULL FRAME THAN HMX
HMX IS 14% LIGHTER ON A FULL FRAME THAN HMF
SCOTT carbon frames are all designed, engineered and virtually tested prior to opening new molds. Concepts are first validated by our team of designers to ensure that they integrate with the overall SCOTT ethos. Our engineers then build a 3D model of the frame which can then be analyzed by the most advanced FEA and CFD industrial tools, as well as our own, in-house developed, kinematic and composite structure software. These tools allow our engineers to assess a frame's weight and volume, stress distribution, stiffness rating, aerodynamic performance, suspension characteristics with regard to kinematics and spring rates, and fiber ply layup schedules.
Once the virtual design and engineering process is completed, the first mold can be opened. SCOTT engineers layup the initial frame themselves. The resulting prototype frames then go directly from the mold to the test lab to assess frame strength and stiffness. The frame will then go through several cycles of layup refinement and testing until all performance targets are met.
Prior to mass production, a pilot run of frames is produced to validate all tooling and layup schedules. These pilot frames are then subjected to further lab testing, before being ridden in real world conditions. It is at this point that our professional teams and riders enter the equation, pushing the bikes to their limits and providing valuable feedback.



The actual step-by-step process is as follows:
Design & Engineering
- Scott knows that carbon must be optimized in every respect in order to achieve top performance standards and function specific designs. Priority is placed on engineering and collaboration between Scott's greatest thinkers.
Precision Trimming of the HMX Carbon Fiber
- The key to a superior layup begins with the engineered shapes that must first be laser cut.
Preparing The Layers
- There are over 200 pre-prepared pieces of all sizes that are necessary to
construct a single Bicycle frame. Precision over these many repetitions is key to success.
Preforming & IMP (Integrated Molding Process)
- IMP is a process developed by SCOTT engineers that allows for multiple tubes to be created in a single step while managing the layers completely.
During the molding process the layers are compressed while they cure. This adds integrity to the structure and further optimizes the HMX fibers. Scott invented Carbon Welding, a process widely used throughout the bicycle industry.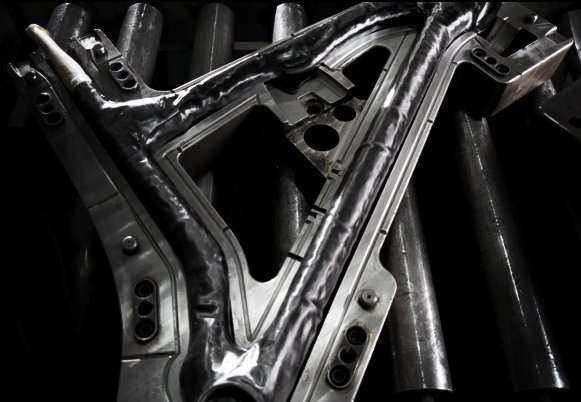 Machining
- In order to assemble a precise final product, areas of the frame with critical tolorences are tuned so that the frame is finished well.
Bonding and Second Step Layup
- The process of assembling the various pre-created parts of the fuselage is like finishing a complex puzzle in which care and precision is mandatory to maintain a high quality finished product. This is the final step in constructing a SCOTT frame.
Quality Control
- SCOTT engineers maintain a high level of quality control. Destruction testing is performed at intervals throughout a production run. We know the exact serial number each member of the team has had a hand in producing and which day it was made. Without quality control no measure of a quality product can be produced.
Here are some AWESOME bikes from Scott that employ different levels of Carbon Fiber. Click any bike's name for more information!
VIDEO REVIEW
Circle City Bicycles and Fitness
5506 Madison Ave.
Indianapolis, IN 46227
(317) 786-9244