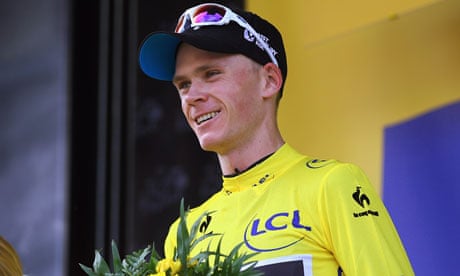 Chris Froome after winning Stage 8 of the 2013 Tour de France
(Photo courtesy of The Gaurdian)
The 2015 Tour de France begins this Saturday. Here are some of the contenders for the overall title. Be sure to watch the fantastic coverage of the race on NBC Sports. I'll start with what some are calling the "Fantastic Four".
Chris Froome of Great Britain is the favorite. It should be no surprise if you watched him in 2013 and 2012. He looked very impressive when he won the 2013 Tour de France. In 2012 it looked like he might have been able to win it if he had not been supporting team leader Bradley Wiggins. In 2014 he was looking to defend his title when he crashed twice on stage 5 and had to abandon the Tour.
Nairo Quintana of Colombia is considered by most who follow professional cycling to have the next best chance of winning. Many cycling fans first took note of him and his fantastic climbing ability in the 2013 TDF when he finished second to Froome. In 2014 Quintana competed in the Giro d'Italia, which he won, and skipped the Tour de France, because the Giro's hilly route suited his abilities better. This year's route of the TDF is very favorable to him since the route is hilly and has only one short individual time trial. If he can stay close to the leaders, he might very well win it on Stage 20, which ends atop Alpe d'Huez.
Alberto Contador of Spain is the third favorite of the oddsmakers. He won the Tour de France in 2007 and 2009. His victory in 2010 was nullified after he tested positive for a banned substance. He finished fourth in the 2013 TDF. Contador looked to be in good form at the start of the 2014 Tour & was expected to challenge for the title. Unfortunately, he crashed out in stage 10. In 2015 he again looks to be in good form after his Giro d'Italia victory. Some are wondering if he can recover quickly enough to win the Tour De France. No one has won both of these grand tours in the same year since 1998.
If you watched Vincenzo Nibali win the 2014 Tour de France in impressive fashion, you may be wondering how he could be rated number 4 going into this year's TDF. So far, he just hasn't looked that good in 2015. Keep in mind though, that he didn't look that good in 2014, until the Tour de France started and he began leaving his competitors in the dust.
There are some dark horses out there to watch. Thibaut Pinot is the best French rider in many years. In 2014, he finished third at the Tour de France. Many think he will someday win it. Could 2015 be the year? America's best hope is Tejay van Garderen, who finished fifth in the 2012 and 2014 TDF. Perhaps he can move up to a podium finish this year.