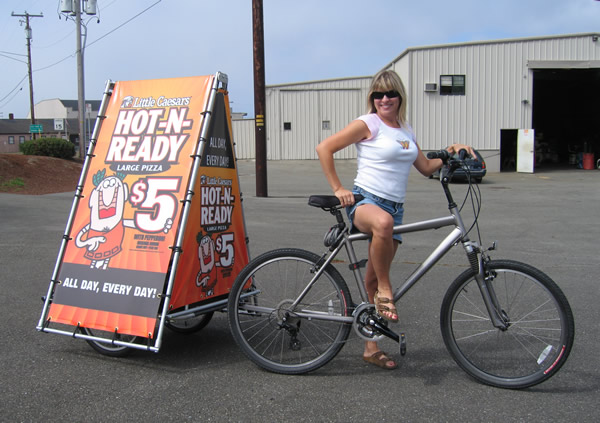 Outdoor Mobile Billboards create mobile billboards for bikes or cars
We have been considering ways to promote
Circle City Bicycles
, and have done some research on bicycle based advertising, It is amazing how much stuff is out there. There are quite a few companies which make advertising trailers to be towed by bike. The trailer shown above is made by
Outdoor Mobile Billboards
, which custom makes each trailer.
Extrawheel
makes a single wheel advertising trailer that sells for $350. It looks kind of like a Bob trailer with the cargo area replaced by a frame to hold a poster. A company in Canada called Wike makes an advertising trailer that sells for $150. What I really like about it is that you can use add-on trailers, which only cost $100 each, and pull up to 5 at a time with one bike. Here's a
video
that shows their trailers in action. They also make a larger one that sells for $250.
In Seattle, there is a company called
Biking Billboards
that specializes in bicycle based advertising. If you're wondering how much they pay people to ride their bikes, they start at $15 per hour and can go up to $18 per hour. Another company that does bicycle advertising is
Alt Terrain
. They recommend bicycle advertising in cities with concentrated foot traffic, such as:
New York
Chicago
San Francisco
Philadelphia
Boston
Washington
Minneapolis
If you are looking to get into the bicycle billboard business, there is one available in Dayton, Ohio. The
Pedaling Promotions
website says it is for sale. They use four wheel bikes with an integrated billboard instead of pulling trailers. These vehicles are manufactured by a company called
Adbikes
.