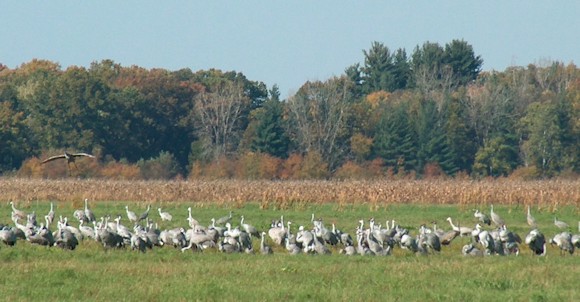 3,400 Sandhill cranes were counted at Jasper-Pulaski Wildlife Area on October 6
(Photo courtesy of Indiana-Travel.net)
This Saturday, October 17, the
Crane Cruise
will be held in Medaryville, Indiana. This small town of about 600 is approximately 50 miles north of Lafayette. It is best known for being close to Jasper-Pulaski Wildlife Area. Each fall a vast number of sandhill cranes stop there during their migration southward. Their numbers typically peak at over 10,000 during November. This makes it the largest concentration of sandhill cranes east of the Mississippi. On October 6, this year's count was up to 3,400.
The cranes spend most of the day away from the wildlife area feeding on grains left over after crops are harvested in the surrounding fields. The best time for viewing at the wildlife area is about an hour before dusk when they fly back in from the fields. There is an observation platform to view from. To get to it from the parking lot, just follow the signs and noise (
Click here
to find out what they sound like).
The Crane Cruise bike ride,organized by the Medaryville Lions Club, has routes from 12 to 50 miles. There are a number of sag stops featuring home baked goods. You may see some cranes out in the fields as you ride, but be sure to spend some time at the Jasper-Pulaski Wildlife Area. There will be a presentation there at 5:00 P.M. after the ride.